With the aim to make efficient professionals who will work in the quality control department of textile industry Textile today Training …
Date: 5th,12th,19th & 26th September 2020.
Time: 9.00 AM- 1.00 PM
Last Date of Registration: First come first serve basis
Dedicated Course Trainer
Contact: +88 01734 211085
Venue: NTG, Munnu Nagar, Tongi, Gazipur, Bangladesh
Bangladesh's textile & garment industries output and exports are key factors in overall country development. In this international competitiveness business area quality is the main criteria for success & further growth. Professional development in quality management in Bangladesh's textile & readymade garment sector is a vital demand. Quality control at different stages of production is very important to ensure quality of the final product. The professionals working in the quality department of the textile industry must have to have the proper knowledge about international quality standard of different buyer. And also they must have to know the sequence so that they can follow up & ensure the quality of the final product. Quality control professionals must have to know the proper way of inspection of fabrics & final garments product to meet the buyers demand.
With the aim to make efficient professionals who will work in the quality control department of textile industry Textile today Training has included this training to its factory skill development training program. Quality control professionals, students , merchandisers as well as people who are working at managerial positions in the textile  industry will be able to develop themselves & will turn into a skilled quality control professionals group by participating in this training program. Quality Parameters, inspections and Inventory management.
Contents:
Making sure AQL (Acceptable Quality Level)
Pantone Book Study
Understanding Technical Sheet/ BOM (Bill of Material) Sheet
Fabrics Quality Ensuring Process

Knitting
Lab Dip
Dyeing
Finishing

4 point system fabric inspection
Label Approval Procedure

Main Label
Care label
Size label
Patch etc.

Understanding Print Quality
Understanding Embroidery Quality
Understanding Sequence Quality etc.­
Understanding Zipper Quality & Types
Understanding Velcro Quality
Understanding Elastic Quality & Types.

Inventory Process

SCOTA Files Preparation
Inspection Procedure

Pilot run
Inline inspection
Pre final inspection
Final inspection
Arrange the inspection room

Understanding Test Parameters
Sample Checking Procedures

Development
Size set
PP samples
Salesman samples (What, how and why)
Participants:
Owner, Director, GM, Managers, Merchandiser, Executives, Students.
Methodology
PowerPoint Presentation, Exercise, Question and Answer session.
Boarding
Course materials and food will be provided by Textile Today.
Certificates will be awarded to participants at the end of training.
Course Fee:
Fee: BDT 5,900/- (Five Thousand Nine Hundred Taka Only)
Note:
*3 or more participants from one organization will get special discount.
*Textile Today Subscribers get 10% discount on the fees.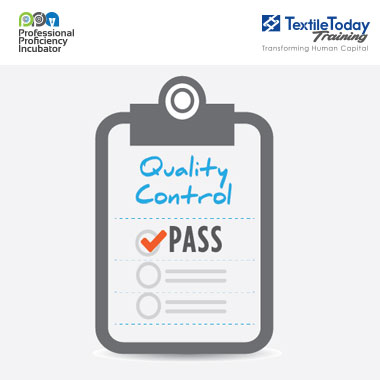 Course Fee :
For individual training modules: 5,900/- (Nine Thousand Nine Hundred Taka Only) ( Physical/ Classroom ) ; 3000 /- ( Three Thousand Taka Only ) ( online )
Mentors Profile
List of Successful Certificate Receivers
1st Batch
Displaying 1 – 8 of 8
Name Company
---
Md. Tanvir Hasan Mahmud
Butex
---
Syed Jobayer Ahamad
BUTEX
---
Md. Khairul Ahsan
APS Group
---
Mr. Mahmudul Hussain
Northern Tosrifa Group
---
Mr. Ashraful Alam
Northern Tosrifa Group
2nd Batch
Displaying 1 – 5 of 5
Name Company
---
Md. Nasir Uddin Chowdhury
Garments & Textile Consultant
---
Md. Jahidul Islam
Skyros Trading
---
Some Previous Clicks
1st Batch
2nd Batch