Weaving is a method of textile production in which two distinct sets of yarns or threads are interlaced at right angles to form a fabric or cloth …
Date: 21th & 28th July 2023
Time: 9:00 AM - 5:00 PM
Last Date of Registration: First come first serve basis
Dedicated Course Trainer
Contact: +88 01734 211085
Venue: House of Textile Today, 25/A, Lake drive road, Sector #7, Uttara, Dhaka
Background :
Weaving is a method of textile production in which two distinct sets of yarns or threads are interlaced at right angles to form a fabric or cloth. Other methods are knitting, crocheting, felting and braiding & plaiting. The longitudinal threads are called the warp and the lateral threads are the weft or filling .The method in which these threads are inter-woven affects the characteristics of the cloth .Cloth is usually woven on a loom, a device that holds the warp threads in place while filling threads are woven through them. A fabric band which meets this definition of cloth (warp threads with a weft thread winding between) can also be made using other methods, including table weaving, back start, or other techniques without looms.
The way the warp and filling threads interlace with each other is called the weave. The majority of woven products are created with one of three basic weaves: plain weave, satin weave or twill. Woven cloth can be plain (in one color or a simple pattern) or can be woven in decorative or artistic design.
Weaving is used to manufacture textile fabric .Fabrics are created through crossing of several parallel warp threads with the weft threads. The threads may be made of synthetic fibres , such as polyamide , polyester or aramid but also of cotton ,glass,wire or other raw materials.The basic principle of fabric has been established for centuries.
Now at this moment , China wants to reduce the environmental pollution from their textile industry. Many textile industry has already been shut down. Garments order is reducing in China day by day . Bangladesh needs to catch these orders . So, we need to achieve standard quality in woven  fabric Production. The target of Bangladeshi entrepreneurs is the get the orders rejected by China . For this reason they must have achieve the standard in fabric  production. They need efficient professionals at different  stage of production. The objectives of the Training of Weaving & Weaving processing is to provide knowledge support to the Trainees so that  they will be able to prove themselves valuable to the industry .
 Course Contents :
Types of fibre , Fibre parameters , usage , processing & other details .
Types of yarn.
Yarn production processes ,techniques used in Bangladesh spinning industry .
Discussion on yarn parameters & the control techniques & its impact on weaving.
Costing of Yarn
Principles of weaving
Constructional design of Weaving & woven fabrics
Colour and weave effects
Fabric analysis
Nonwoven fabrics – different processes – bonding techniques
This course will expose the students to the world of fabric decoration, weaving, its history and development over the years.
Introduction to the basic elements of design as applied in decorative textile design. Practical exploration of, the line as a critical element in fabric decoration. Theoretical discussion into the qualities of line; straight curved, zigzag, wavy, broken etc to find out how they are applied in textile design.
Weaving modification techniques .
Weaving loom technique.
Typical fault condition & fault finding procedures.
Costing of a fabric .
woven Dyeing Techniques .
Woven Dyeing critical points
Woven Dyeing costing details
Different test parameters & procedures .
Trouble shooting .
Participants:
Owner, Director, GM, Managers, Executives, Students.
Methodology
PowerPoint Presentation, Exercise, Question and Answer session.
Boarding
Course materials and food will be provided by Textile Today.
Certificates will be awarded to participants at the end of training.
Course Fee :
For individual training modules: 5900/- (Five thousand Nine Hundred taka only)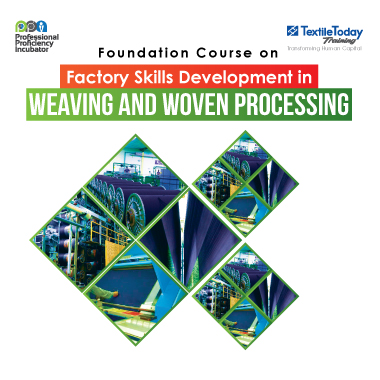 Course Fee :
For individual training modules: BDT 5900 /- ( Five thousand Nine Hundred taka only )
Mentors Profile
List of Successful Certificate Receivers
1st Batch
Displaying 1 – 11 of 11
Name Company
---
Md. Sanuardi Mithun
Mukashi Associates Ltd.
---
Zubayer Hossain
Skyros Trading
---
Mahbubur Rashid
Skyros Trading
---
Md. Musfiqur Rahman
Niter
---
Syeda Mahbuba Afroz
Niter
---
2nd Batch
Displaying 1 – 8 of 8
Name Company
---
3rd Batch
Displaying 1 – 8 of 8
Name Company
---
Riazul Momen
Nice Denim Mills Ltd
---
Rahmatul Ahad Dipto
Nice Denim Mills Ltd
---
Nayan Bhowmick
Ovs Hong kong sourcing Ltd.
---
4th Batch
Displaying 1 – 11 of 11
Name Company
---
Md. Sabuz Ahmed
Alaq limited
---
Nayan Bhowmick
Quality Control Manager
---
Syed Rashidul Islam
Laundry Industries Limited
(Envoy Group )
---
Imtiaz Majumder
An Australian Company
---
Md. Saydur Rahman Miazi
DIU
---
Sudipta Bain
Uttara University
---
Hasan Mohammad Nishad
DIU
5th Batch
Displaying 1 – 14 of 14
Name Company
---
Touhiduzzaman Tonmoy
BUFT
---
Mr. Rafi
Sr. Merchandiser
---
Chowdhury Riyad
Managing Director
---
Sumon Boidya
Merchandiser
---
Arnel Lambuson
Offshore Quality Inspector
---
Md. Khairul Anam
Jr. Merchandiser
---
Mostafa Mafur Sami
Merchandiser
---
Rashed Talukder
Merchandiser
---
Moktadir Ali Anonto
Merchandiser
---
Some Previous Clicks
1st Batch
2nd Batch
3rd Batch
5th Batch