Knitting is considered to be the second most frequently used method of fabric construction …
Date: 24 June & 01 July 2022
Time: 9 am - 5 pm
Last Date of Registration: First come first serve basis
Dedicated Course Trainer
Contact: +88 01734 211085
Training will be conducted Through Zoom Online
Venue:Zoom Online
Knitting is considered to be the second most frequently used method of fabric construction, after weaving. It is one of the several ways to turn thread or yarn into cloth. It is similar to crochet in the sense that it consists of loops pulled through other loops. In other words, knitting is the process of construction of a fabric made of interlocking loops of yarn by means of needles. The loops may be either loosely or closely constructed, according to the purpose of the fabric. The loops or stitches are interlocked using a needle which holds the existing loop and a new loop is formed in front of the old loop. The old loop is then brought over the new loop to form the knitted fabric. Knitting is different from weaving in the sense that a single piece of yarn can be used to create fabric. The knitted fabric consists of horizontal rows known as courses and vertical columns of loops known as Wales. There are two types of knitting Wrap knitting & Weft knitting.
At this moment, Bangladesh is one of the largest knit garments exporter in the world .The Knit Garments industry is facing many problems at this moment. The professionals working in this sector are facing new challenges every now & then in the industry. As Bangladesh Textile today are working with the textile industry very closely it is very familiar with the challenges. The objectives of this training program is to share the problems & challenges with the trainees & to provide them the best possible solutions
 Course Content:
Module 1:
1.Basics of Knitting
2.Kniting types
3.Chronological Developments in Knitting
4.Ways to start knitting on time
5.Raw Material Selection & its Quality
6.Risk Assessment.
Module 2:
1.Importance & Guide line on Traceability
2.Elements of Machine Adjustment
3.Impact of Lycra Percentage
4.Composition specially Fleece / designed fabrics
5.Analysis of Quality Report
6.Maintain Appropriate Quality
7.Defects Types & Remedy.
Module 3:
1.Value Added Product Development
2.Knitting Machine Maintenance
3.Caring of Needle, Sinker, Cam & Cylinder
4.7 Wastage Reduction in Knitting
5.Efficiency & Utilization of Knitting Machines
6.Key Focus Area to maximize profit in upcoming price sensative market
7.Optimize Inventory of Grey Yarn / Needle / Sinker / oil / etc.
Course Fee :
For individual training modules:3000/- (Three Thousand Taka Only )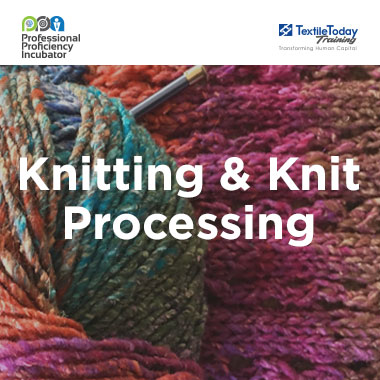 Course Fee :
BDT 3000 /- ( Three Thousand Taka Only ) ( Online )
Mentors Profile
List of Successful Certificate Receivers
1st Batch
Displaying 1 – 15 of 15
Name Company
---
H.M Mahbub Rabbani
Thamex Group
---
Md. Touhidunnoby
Fariha Knit Tex
---
Shafi Ahmed Johny
Wais Trading Corporation
---
6. Md. Sirajul Haque Sajib
Butex
---
Md. Sanuardi Mithun
Mukashi Associates BD Ltd.
---
Md. Sazzad Hossain
APS Group
---
Jabun Nessa Jibon
Metro Knitting
---
Emran Hossain
Northern Tosrifa Group
---
Ali Hossain
Northern Tosrifa Group
---
Md. Samsul Haque
City University
---
2nd Batch
Displaying 1 – 9 of 9
Name Company
---
Saifullah Al Mujahid
Niter
---
Md. Mizanur Rahman
Fariha Knit Tex
---
Md. Sezan Chowdhury
Butex
---
Md. Saiful Islam
Fakir Knitwear
---
Md Salman Farssi Limon
Buft
---
Md. Alom Badsha
Aps Group
---
3rd Batch
Displaying 1 – 6 of 6
Name Company
---
Md Jubaear Alam
Aman knitting
---
Monjur hossain
KRB Trading
4th Batch
Displaying 1 – 9 of 9
Name Company
---
Tasmim Jahan Muna
Home Economics
---
5th Batch
Displaying 1 – 11 of 11
Name Company
---
F.M. Julfikar Moyeen
Tamishna Group
---
Tauhid Ahmed
Shinhan Apparel Co, Ltd
---
Md. Shiful Islam
Brannerson Apparel Limited
---
Tanvir Imam
Fakir Fashion
---
Nayan Bhowmick
Ovs Hong kong sourcing Ltd.
---
PARTHA JOTI SAHA
Jhenidah Textile Engineering College
---
Rahmatul Ahad Dipto
Nice Denim Mills Ltd
---
Riazul Momen
Nice Denim Mills Ltd
6th Batch
Displaying 1 – 14 of 14
Name Company
---
Sudipta Bain
Uttara University
---
MD MAHFUZUR RAHMAN
DBL Group
---
F.M. Julfikar Moyeen
Tamishna Group Ltd
---
Tauhid Ahmed
Shinhan Apparel Co., Ltd
---
Md. Shiful Islam
Brannerson Apparel Limited
---
Shah Muhammad
Taiga Apparel
---
Muhammad Awais Iftikhar
National Textile University, Faisalabad
---
Md. Zahidul islam
SIM Group
Some Previous Clicks
1st Batch
2nd Batch
3rd Batch