PPI Workshop on "Knit Dyeing Production & Troubleshooting"
April 21, 2018 @ 8:00 am

-

5:00 pm
PPI Workshop on "Knit Dyeing Production & Troubleshooting"
Date: 21st April, 2018
Time: 9.00 AM – 1.00 PM
Last Date of Registration: First come first serve basis
Dedicated Course Trainer
Fee: BDT 990/- (Nine Hundred and Ninety Taka Only) ** BDT 700/- (Seven Hundred Taka Only) for TTH Alumni
Contact: +88 01734 211085
Venue: 25/A, Lake drive road, Sector #7, Uttara, Dhaka
Introduction:
Textile & garments industries are considered as the economic backbone of Bangladesh. These industries have a major contribution to the country economy as well. The textile dyeing & finishing industries play the most important role in the entire value chain. Various types of fabric coloration are performed in dyeing section based on the requirements & demand of the buyer. Different dyeing factories perform different dyeing process. Different types of knitted fabric like Single jersey, Rib, Lacoste, Interlock, Fleece requires different reel speed & cycle time to dye the fabric. Accordingly different types of color like turquoise, Anthracite, Khaki, Black, Navy, White, Jester red, Lemmon Yellow, Brown, Pale Blue also need different dyeing processes to get the required dyeing shade.
But all of the dyeing processes are not practically suitable for the coloration of the fabric to maintain the exactly required shade & quality of colored fabric. During & after coloration different types of dyeing faults arise. These types of problem arise due to the implementation of wrong dyeing procedure & also for lack of concentration by the responsible authority in the dyeing floor. To overcome such kind of problem & getting the best output, we have to select suitable dyeing processes, machine parameters setting like as proper process curve, reel speed, cycle time, temperature grading etc.
Topics: 
Batching, planning & order management
Machine selection & control
Industrial dyeing processes
Process control in bulk production
Achieving required shade
Trouble shooting
Delivery
Who can attend?
Fresh graduate
Persons wiling to get job in Textile dyeing & finishing sector
Entry level professionals working in Textile dyeing & finishing sector
Officials engaged in T&C and Buying House
New Entrepreneurs
Methodology
PowerPoint Presentation, Exercise, Question and Answer session.
Boarding
Course materials and food will be provided by Textile Today.
Certificates will be awarded to participants at the end of workshop.
Course fee
BDT 990/- (Nine Hundred and Ninety Taka Only)
** BDT 700/- (Seven Hundred Taka Only) for TTH Alumni
** 2 workshop free per year for Textile Today Subscriber
** 2 or more participants from one organization get special discount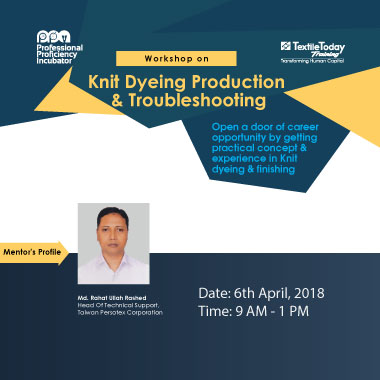 Course fee
BDT 990/- (Nine Hundred and Ninety Taka Only)
** BDT 700/- (Seven Hundred Taka Only) for TTH Alumni
** 2 workshop free per year for Textile Today Subscriber
** 2 or more participants from one organization get special discount
Mentor's Profile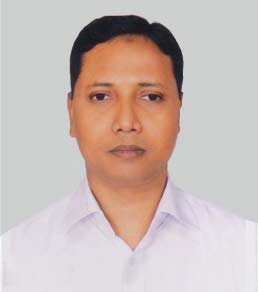 Md. Rahat Ullah Rashed
Head Of Technical Support
Taiwan Persotex Corporation