Date: 26th March & 9th April
Time: 9:00 AM - 5:00 PM
Last Date of Registration: First come first serve basis
Dedicated Course Trainer
Contact: +88 01734 211085
Venue: Zoom Online
Introduction – International trade and your role – agent/trader/manufacturer
GDP
Mode of Payment in international trade.
Import procedure
Export procedure
Later of Credit (LC)
Documents used in international trade operations
Incoterm
Insurance
S. Code, tariff rules & custom procedure, insurance foreign exchange rate, SWIFT- commonly used SWIFT messages.
Overview of UCPDC-600
Off-shore banking
Trade services of Banks in Bangladesh.
Trade negotiation & risk management.
Cash incentive, customs audit.
Practical approaches for opening different types of LC. Trade license, ERC, IRC and other licenses required.
Course Fee :
For individual training modules: 3000 /- ( Three Thousand Taka ) ( Online )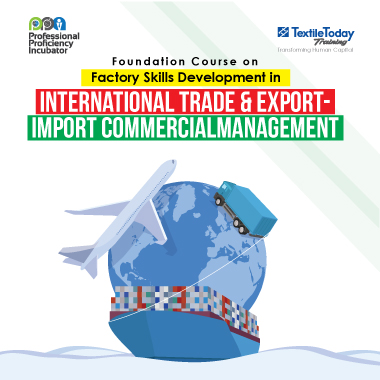 Course Fee :
BDT 3000 /- ( Three Thousand Taka Only ) ( online )
Mentors Profile
List of Successful Certificate Receivers
1st Batch
| Name | Company |
| --- | --- |
| Yasin Arafat | Essential Clothing Limited |
| Rahatul Ashekin | CEO |
| Md. Manik | Zee Fashion |
| Md. Tauhidul Islam | Liberty Business Associates |
| A S M Mahfuzur Rahman | APS Apparels (Dyeing Unit) Ltd. |
| Mohammad Nasir Uddin | Garments & Textile Consultants |
| Md. Forhad Hossain | Pure Chemical |
| Md. Mazharul islam | Piyangka Fashion |
| Md. Waliullah | Piyangka Fashion |
| Abu Bakar Siddik | Network Group |
| Md. Shifat | Fast Enterprise |
| Md. Shah Meraz | Sterling Styles Limited |
| MD. SHAH MERAZ | Sterling Styles Ltd |
| Sheikh saleh | |
| Khadiza Akter Mitu | BUTEX |
| Jacques Sebastien Jabouin | |
| Md. Manik | Zee Fashion |
| Yasin Arafat | Essential Clothing Limited |
| MOHAMMAD LOBANUR RAHMAN | JINMAOTEX.BD |
| Major A S M Mahfuzur Rahman, psc, MDS (retd) | APS Apparels (Dyeing Unit) Ltd. |
| Tanzil Rahman | Karigor Fabrics |
| Name | Company |
Some Previous Clicks
1st Batch