PPI Workshop on "Towards Zero Defect Quality in Textile & Apparel"
December 31, 2022 @ 8:00 am

-

5:00 pm
PPI Workshop on "Towards Zero Defect Quality in Textile & Apparel"
Date:4th May,2018
Time: 9.00 am-1.00 pm
Last Date of Registration: First come first serve basis
Dedicated Course Trainer
Fee: BDT 990/- (Nine Hundred NinetyTaka Only) & BDT 700/- (Seven Hundred Taka Only) For TTH Alumni
Contact: +88 01734 211085
Venue: 25/A, Lake drive road, Sector #7, Uttara, Dhaka
Introduction
Day by day, buyer's are reducing price but other costs like wages, raw materials, compliance etc are continuously increasing. Making profit is becoming harder even survival is more tougher than ever before. Manufacturing excellence is a timely demand to remain competitive as well as profitable. Buyer does not pay for our incompetency. Adopting Lean Manufacturing tools will help us to be profitable by reducing waste. Defect is very common waste in manufacturing process & defect greatly hamper production as well as engulf the profit. Every defective item requires rework or replacement or rejection i.e. loss of resources, materials and time. Zero Defect Quality (ZDQ) is a quality concept to manufacture ZERO defects and elimination of waste associated with defects!
Benefits:
Participant will learn the impact of defects on the Organizational growth.
Participant will be learn how the defects are generated.
Participant will be able to stop the generation of poor quality i.e. defects.
Also able to redesign the process in the light of Lean Manufacturing Philosophy.
Participant will be able to reduce cost associated with poor quality.
Content:
Overview of Lean Manufacturing.
What is ZDQ & Why it is necessary?
Basic Components of ZDQ
Methods for mistake proofing process.
Predictable and non predictable conditions which lead to defects.
Participants:
Owner, Director, GM, Managers, Executives, Supervisors from any manufacturing organization who are eager to be more competitive in Manufacturing.
Methodology & Aids:
Interactive Power Point presentation, Exercise and Q & A
Course Fee :
BDT 990/- (Nine Hundred Ninety Taka Only)
** BDT 700/- (Seven Hundred Taka Only) For  TTH Alumni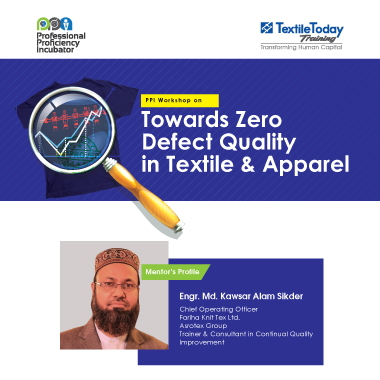 Course Fee :
BDT 990/- (Nine Hundred Ninety Taka Only)
** BDT 700/- (Seven Hundred Taka Only)For  TTH Alumni
Mentor's Profile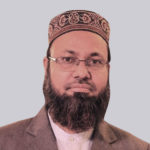 Engr. Md. Kawsar Alam Sikder
Chief Operating Officer
Fariha Knit Tex Ltd.
Asrotex Group
Trainer & Consultant in Continual Quality Improvement
■Having more than 19 years of successful professional track record with multitude experience along with 11.5 years in Knitting, 6.5 years in Knit Fabric Manufacturing & 1 year in whole supply chain i.e. yarn to ship.
■ Obtain training on Total Quality Management from Japan, also implement few tools like 5S, Kaizen, SMED, Quality Circle etc in few companies.
■ Obtain Lean Six Sigma Black Belt certificate. Implement few tools & techniques in few factories.
■ Keen interest to minimize process cost & re engineering the process to enhance manufacturing excellence.