Date: 14-15 March, 2020
Duration: 16 hours
Class(es): 2 days
Contact: +88 01734 211085
Schedule: 9:00 AM- 5:00 PM
Venue: DYSIN Conference Center & Testing Lab Skylark Point (11th Floor), 24/A Bijoy Nagar 175 S.S. Nazrul Islam Shoronee, Dhaka-1000
Background
Bangladesh Textile & Garments manufacturing industries are one of the largest in the world. The importance of the Textile & Garments industry in the economy of Bangladesh is very high. One of the key points for sustainable growth of these industries is the product quality. Quality is assured in different steps of the production through different test methods depending on the customers' demand. Proper tools, techniques & knowledge about textile material testing will improve the accuracy & reduce overall cost & time of the production.
This training program focuses on a collection of the most used AATCC and ASTM Test Methods. It has been developed to fulfill the needs of those that work directly and indirectly with all facets of textile testing. Methods include physical, colorfastness and appearance evaluation. The program provides a fundamental education of the proper techniques for conducting the methods and standards. Training includes classroom lectures and practical lab applications.
Introduction
DYSIN is the first Place in Bangladesh to offer the opportunity to be AATCC Trained Test Method Technologist since 2008. Now DYSIN and Textile Today is jointly offering the intensive 2 days (15 hours) long training on 'Evaluating Colorfastness & Physical Properties of Textile' for professionals working in the textile design, materials, processing, and testing industries.
The American Association of Textile Chemists and Colorists (AATCC) is internationally recognized for its standard methods of testing dyed and chemically treated fibers and fabrics to measure and evaluate such performance characteristics as colorfastness to light and washing, smoothness appearance, soil release, shrinkage, water resistance, and the many other conditions to which textiles may be subjected. New and updated test methods are published annually in the AATCC Technical Manual.
AATCC has about 2500 individual and corporate members in more than 60 countries worldwide.
The members are employees of textile, apparel, and home goods manufacturers; dye and chemical manufacturers; testing laboratories; consumer and retail organizations; state and federal government agencies; and colleges and universities.
How Participants will be Benefited after The Course
Participants will receive first rate instruction from a certified international trainer. Participants will learn exactly how each test method is performed. Learning these proper techniques will improve the accuracy and repeatability of test results. Retesting will be reduced, thus lab time will be saved.
Training Outline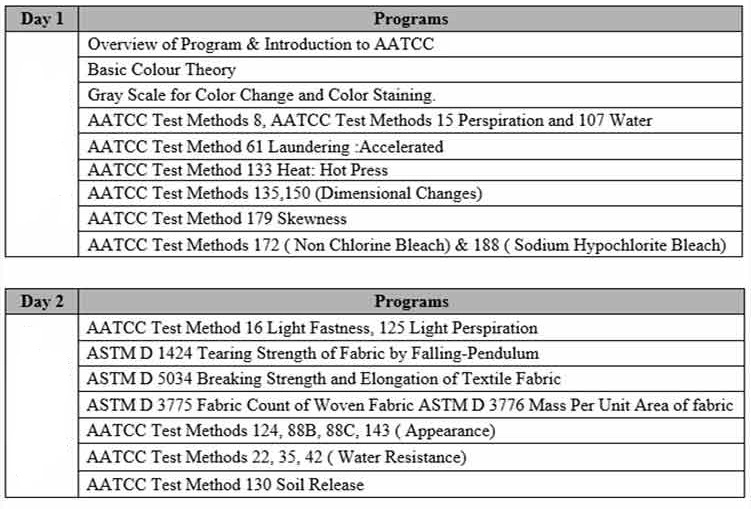 The Certification:
After successful completion of course the participants will receive prestigious The AATCC Certificate. Also, all participants shall receive one year of free membership in AATCC, which includes a subscription to AATCC Review.
Eligibility:
Any of the following can apply for enrollment:
Masters/ Bachelor in Textile Engineering.
Diploma in Textile Engineering with two years working experience.
Bachelor in any other discipline who are working as a technician, quality controller, inspector, auditor, merchandiser, designer, and sales & marketing personnel in textile related field.
Also, anyone else involved with directly testing fabrics and garments, as well as those that review the results of those tests, in all areas from designing to finished product
Course Fees with Electronic Membership:
One person from one Organization: BDT 15,500/-
Two or more person from one Organization: BDT 13,500/- (Per Person)
**No discount for this program for Textile Today Subscribers or any other privilege rate holders.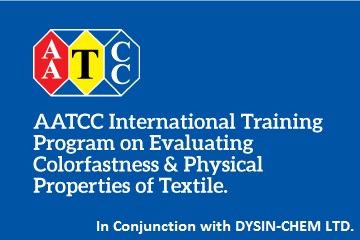 Course Fee :
One person from one Organization: BDT 15,500/-
Two or more person from one Organization: BDT 13,500/- (Per Person)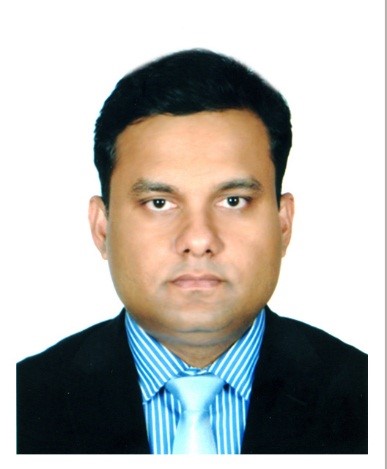 Md. Amanur Rahman
Director of Dysin-Chem Ltd. AATCC Certified Trainer. MBA (IBA) University of Dhaka B.Sc. in Electrical […]
Learn more
List of successful certificate receivers
| Full Name | Organization |
| --- | --- |
| Md. Saddam Hossain | Zaber & Zubair Fabrics Ltd. Fashion |
| Tariqul Islam | Ismail Anzuman Ara fabrics ltd |
| Tariqul Islam | Ismail Anzuman Ara fabrics ltd |
| Tariqul Islam | Ismail Anzuman Ara fabrics ltd |
| Tariqul Islam | Ismail Anzuman Ara fabrics ltd |
| Tariqul Islam | Ismail Anzuman Ara fabrics ltd |
| Tariqul Islam | Ismail Anzuman Ara fabrics ltd |
| Tariqul Islam | Ismail Anzuman Ara fabrics ltd |
| Tariqul Islam | Ismail Anzuman Ara fabrics ltd |
| Nurun Nayem Talukder | Japan Textile Products Quality & Technology Center |
| Full Name | Organization |
Previously Clicked Photos