PPI Workshop on 'Continual Improvement Kaizen'
October 28, 2022

-

November 2, 2022
PPI Workshop on 'Continual Improvement Kaizen'
Date: To be decided
Time: To be decided
Last Date of Registration: Limited Seat (First come first serve basis)
Contact: +88 01734 211085
Venue: The House of Textile Today, 25A (2nd Floor), Lake Drive Road, Sector 7, Uttara, Dhaka-1230
Introduction
Continual improvement, or Kaizen, is a method for identifying opportunities for streamlining work and reducing waste. The practice was formalized by the popularity of Lean / Agile / Kaizen in manufacturing and business, and it is now being used by thousands of companies all over the world to identify savings opportunities.
Indeed, 'Kaizen' is a Japanese management technique renowned for improving organizational performance. The Japanese miracle in transforming the war ruined country to an economic giant within a short span of time is attributed to this unique approach of concept and the techniques.
Kaizen is a continual improvement initiative in increasing efficiency of performance. It contributes towards cost reduction and improvement of productivity and quality.
'Kaizen' develops a mind-set for continual improvement and brings the members in the organization to assume responsibilities in improving their work performance. Organizations adopting these techniques can achieve their goal successfully.
Objective
The ultimate aim of this workshop is to enable the participants to implement small changes in the organization for improvement. The Workshop deals with 'Kaizen' techniques. At the end of the workshop the participants will be able to:
Explain the concept of 'Kaizen'

Identify different steps for implementation of Kaizen

Describe relevant problem solving tools for Kaizen

Prepare Action Plan for implementing 'Kaizen' in their respective workplace.
Benefits
Participants can contribute in the continual improvement of the organization.

Participant will be able to improve efficiency level of organization.

Participant will be able to minimize seven LEAN wastes.

Participant will be able to reduce costs.
Who can attend?
Senior, Mid and Junior level executives

Businessman- garment factory

Officials engaged in T&C and Buying House
Methodology & Aids
PowerPoint Presentation, Group Study, Exercise and Q & A
Boarding
Course materials and food will be provided by Textile Today.
Certificates of appreciation will be awarded to participants at the end of workshop.
Course Fees
BDT 990/- (Nine Hundred Ninety Taka Only)
**BDT 700/- (Seven Hundred Taka Only) for TTH Alumni
2 workshop free per year for Textile Today Subscriber
2 or more participants from one organization will get special discount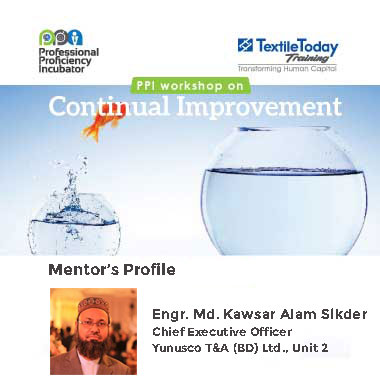 Course Fee :
BDT 990/- (Nine Hundred Ninety Taka Only)
**BDT 700/- (Seven Hundred Taka Only) for TTh Alumni
**2 workshop free per year for Textile Today Subscriber
**2 or more participants from one organization will get special discount
Mentor's Profile

Engr. Md. Kawsar Alam Sikder
Chief Executive Officer (CEO),
Yunusco T&A (BD) Ltd., Unit 2