Date: 25 June & 02 July , 2022
Time: 09.00 AM – 5.00 PM
Last Date of Registration: First come first serve basis
Dedicated Course Trainer
Fee: BDT 5,900/- (Five Thousand Nine Hundred Taka Only) ( Physical / Classroom )
Contact: +88 01734 211085
Venue: Day- 1: DYSIN Conference Center , Skylark Point (11th Floor), 24/A Bijoy Nagar 175 ,S.S. Nazrul Islam Shoronee, Dhaka-1000 Day-2: DYSIN Conference Center & Printing Demonstration and Workshop in Mirpur, Dhaka-1000
Introduction:
In the economic development Bangladesh is largely dependent on the Ready Made Garments (RMG) sector. Currently being one of the largest exporters of readymade garments in the world, Bangladesh has numerous opportunities to make unique position in the world market. In this huge growth and success of RMG sector, there is a big contribution of its related sub sectors like dyeing & printing, weaving & knitting, spinning & so on. Among all of these sub sectors, printing is one of the important sectors that creates major impacts in fashionable garments manufacturing.
The recent trend of fashionable garment makes customers taste at different level, they are looking for colorful product with different design. These requirements of new trend have created huge demand of garment printing day by day. But due to the absence of proper process, skilled manpower & technological development in textile printing industry, a lot of orders are refused every year from Bangladesh. In this aspect we have to develop our capacity in garment printing area to capitalize development of RMG sector.
Textile Today and DYSIN is jointly offering the intensive 2 days (16 hours) long Professional Proficiency Incubator (PPI) training on 'Trends & Techniques in Garments Printing' for professionals working in the Textile & Garment printing industry. This training will support to the garments printing manufacturers & its related personnel to get hands on experience on garment printing process, technique & new scopes in Bangladesh.
Content:
Various Printing Techniques(History and modernization).
History of Screen Printing.
Pre-press details.
Variety of Textile Screen Printing
Details analysis of Water Base printing including fashionable effects
Plastisol printing & its effectiveness
Solvent Base printing scope in Bangladesh
Effects create with Silicone Printing agents
Sublimation Transfer printing using Digital Plotters & Roller/Flat Heat Press
Digital printing on cotton
RSL(Restricted Substance List) of brands in brief.
RSL matter associated with each type of prints in brief.
Course benefits:
l Participants will get an overall understanding in garment printing fundamentals.
l They will also gather practical experience, hands on implementation of different process & techniques.
l The recent challenges & development scope in Bangladesh garment printing area.
l Carry on career advancement & skill development of garment printing professional.
Who should attend?
Owner, Director, GM, Managers, Executives, Supervisors from textile printing industry & its related personnel who are eager to be more competitive in manufacturing and business.
Dyes, chemicals, machinery or advisory service providers of the garment printing industry.
Methodology
PowerPoint Presentation, Hands on Demonstration of Techniques, Question and Answer session.
Boarding
Course materials and food will be provided by organizers.
Certificates will be awarded to participants at the end of training.
Course fee:
BDT 5,900/- (Five Thousand Nine Hundred  Taka Only).
** TTH Alumni will get special discount.
** 2 or more participants from one organization will get 10% discount.
Venue:
DYSIN Conference Center & Printing Demonstration and Workshop in Mirpur, Dhaka-1000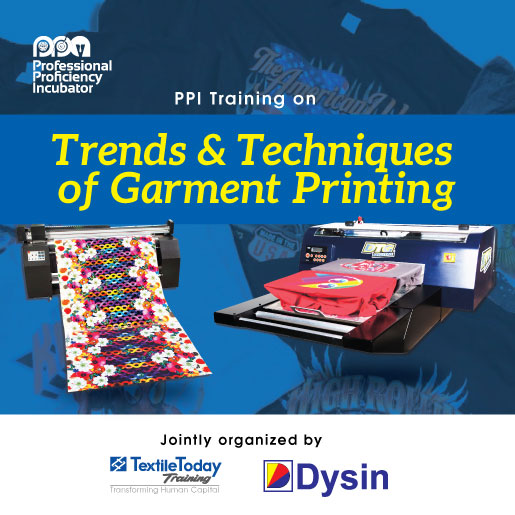 Course Fee :
BDT 5,900/- (Five Thousand Nine Hundred  Taka Only) ( Physical / ClassRoom )
** TTH Alumni will get special discount.
** 2 or more participants from one organization will get 10% discount.
Mentors Profile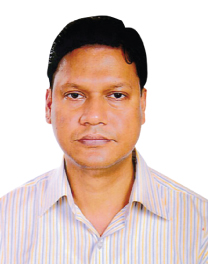 Monirul Alam
Executive Director-Printing
DYSIN-CHEM LTD.
Monirul Alam, a print technologist serving Bangladesh Textile Industry from year 2000. In 18 years of his service life he worked with mostly Japanese and European top companies who involved in textile printing chemicals manufacturing & its application such as DIC Color & Chemical Co. Ltd., Japan, Dainichiseika Color & Chemical Co. Ltd., Japan, Shin Nakamura Chemical Co Ltd., Japan, Matsui Sikisho Co. Ltd., Japan, Fujifilm Sericol Co. Ltd., UK/Japan, Maag Flock, Germany and Menphis, Italy. Apart from those he also work with many Taiwan, Korea, China & Indian Companies. He received a numerous training and attended many international seminar for screen printing. He is pioneer to introduce Plastisol, Solvent Base, Silicone base printing chemicals successfully in Bangladesh. He has graduation in Computer Science, Accounting and has also a MBA degree in his education life.
List of successful certificate receivers
1st Batch
Displaying 1 – 7 of 7
Name Company
---
Md. Shahadat Hossain Rony
---
3rd Batch
Displaying 1 – 12 of 12
Name Company
---
Rajib Hasnat
RL Fashion Ltd
---
Md. Mehedi Hasan Khan
Li & Fung
---
Md.Mazharul islam Sobuj
Quick Apparels Ltd
---
Muhammad Saifur Rahman
KDS Accessories Ltd
---
Md. Shahid Hossain
QTEC Dhaka Ltd.
---
Md. Shimul sheik
Print Technician.
---
Syed Mostafizur rahman
Manager (washing & product development)
---
Md. Shazan Molla
Executive
---
Habib Monzur Hasan (Bappu)
Director
Some Previous Clicks
1st Batch
2nd Batch
3rd Batch
4th Batch