PPI Workshop on Textile Value Chain
October 28, 2022

-

November 27, 2022
PPI Workshop on Textile Value Chain
Date: 30th December, 2017
Time: 5.30 PM - 9.00 PM
Last Date of Registration: First come first serve basis
Dedicated Course Trainer
Fee: BDT 990/- (Nine Hundred Ninety Taka Only)
BDT 700/- (Seven Hundred Taka Only) for TTH Alumni
Contact: +88 01734 211085
Venue: 25/A, Lake drive road, Sector #7, Uttara, Dhaka
Introduction
Textile Value Chain describes the full range of activities that are required to bring a cloth from conception (i.e. product design and development), through the different phases of production (i.e. the physical transformation of raw materials to finished product outputs), delivery to final consumers (i.e. sales and distribution), and final disposal after use (i.e. consumption / recycling).
In depth knowledge on Textile Value Chain will help an individual, a firm or a country to analyze and identify its core competencies. An individual, a firm or a country can also plan holistically on an industry by locating what to do and what not to do. Clear understanding of the complexities of textile value chain would build confidence among the people working in different stages of the value chain. And this would help the whole sector grow together by maintaining harmony reducing risk.
By mapping the flow of inputs—goods and services—in the production chain, a firm could determine who else's behavior plays an important role in its success.
Moreover, value chain analysis provides insights to the debate on how producers— whether firms, regions or countries—should participate in the global economy. Focusing on all links in the chain (not just on production) and on all activities in each link also helps to identify which activities are subject to increasing returns, and which are subject to declining returns.
Thus, understanding Textile Value Chain is very important to understand the need and scope for systematic competitiveness to tap the gap for a firm or country. For an individual this understanding is even more important to choose a specific career path.
Objective of this workshop
The objective of this workshop is to enhance the 'conceptual skills' of a textile professionals which is a must knowledge for those who want to reach leadership positions in jobs and businesses.
Textile Today introduces 'Professional Proficiency Incubator (PPI) Workshop' on a series of 20 topic which will prepare a textile professional ready for any sector in textile industry.
Contents of workshop
What is Textile Value Chain
Value Chain: Mapping and Analysis
Global Value Chain: Textile and Garments
Value Added Formation in the Textile and Garments Supply Chain
Governance Structures of Value Chains
Textile Value Chain :

Raw material Network

Farming
Fiber
(i) Natural Fiber (Cotton, Wool, Silk etc.)
(ii) Synthetic Fiber (Oil, Natural Gas)
– Ginning

Component Network

Yarn (Spinning)
Petrochemicals
Synthetic Fibers
Fabric (Weaving, Knitting)
Finishing (Dyeing, Printing)

Production Network

Textile Product (Apparel)

Designing
Cutting
Sewing
Buttonholing
Ironing

Export Network

Brand Named Apparel Companies
Overseas Buying House
Trading Companies

Marketing Network

Departmental Stores
Specialty Stores
Mass Merchandise Chains
Discount Chains
All Retail Outlets
Consumers

More Value for the Textile Chain (Smart Textiles)
Who can attend
Fresh graduate
Persons wiling to get job in Textile & Clothing Sector
Entry level professionals working in Textile & Clothing Sector
Officials engaged in T&C and Buying House
New Entrepreneurs
Methodology
PowerPoint Presentation, Exercise, Question and Answer session.
Boarding
Course materials and food will be provided by Textile Today.
Certificates will be awarded to participants at the end of workshop.
Course fee
BDT 990/- (Nine Hundred Ninety Taka Only)
** BDT 700/- (Seven Hundred Taka Only) for TTH Alumni
** 2 workshop free per year for Textile Today Subscriber
** 2 or more participants from one organization get special discount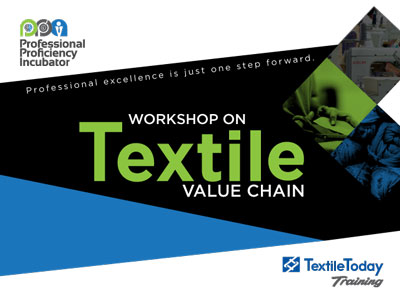 Course Fee :
BDT 990/- (Nine Hundred Ninety Taka Only)
** BDT 700/- (Seven Hundred Taka Only) For TTH Alumni