PPI Workshop on "Fabrics for Merchandisers"
August 18, 2022 @ 9:30 am

-

12:30 pm
Event Navigation
PPI Workshop on "Fabrics for Merchandisers"
Date: To be decided
Time: To be decided
Last Date of Registration: First come first serve basis
Dedicated Course Trainer
Fee: BDT 1000/- (One Thousand Taka Only) & BDT 500/- (Five Hundred Taka Only) For TTH Alumni
Contact: +88 01734 211085
Venue: 25/A, Lake drive road, Sector #7, Uttara, Dhaka
Introduction
The globalization phenomenon has induced a considerable change in manufacturing and supply chain strategies across apparel and fashion value chain. To get cost benefit, fashion retailers and manufacturers prefer sourcing of garments/fabrics to give the highest level of satisfaction at low production cost. Today's business strategy is shifting certain operations from apparel value chain to low cost and takes competitive advantage to enhance the profit margin.
Fabric is generally the most significant factor in costing of garment. Fabric accounts for 60 to 70% of the total cost of basic-styled garments. In many cases, evaluating the quality and the quantity of fabric consumed in the garment indicates better than any other factor the cost of producing it.
Therefore, it is essential to the success of the business that this is properly controlled. It is not just a matter of having good markers (although of course this is essential) but also to make sure that fabric is utilized to the maximum.
Merchandiser does the costing which is the heart of production merchandising and the fabric consumption is the responsibility of the merchandiser. Merchandiser quotes the cost of garment at the time of sampling. Hence, merchandiser must know the calculation related to fabric consumption.
There are two methods to calculate the fabric consumption namely
Preparation of marker (miniature marker)
Mathematical method of fabric consumption
This workshop will facilitate the participants to have an in depth understanding on Fabric and relevant areas for Merchandisers. Participants who complete this program will be able to produce a professional portfolio showcasing their skills. This portfolio will increase job opportunities in the field as well as promotion for those already employed.
Contents of workshop
Understanding on Fabric quality and construction details
Basic Fabric Types
Fabric Factor need to consider during costing
Basic knowledge on Fabric testing and understanding of a fabric test report
Fabric Approval procedure before placing an order
Factors need to consider while placing an order
Common fabric issue during production
Handling Fabric claim with supplier
Common mistake done by merchandisers related fabric while handling an order
Who can attend
Merchandisers working in garment factories and buying houses.
Merchandisers who wants to move to 'Fabric Merchandising/Technology'
Businessman- garment factory or buying house
Persons wiling to get job in Merchandising
New Entrepreneurs
Officials engaged in T&C and Buying House
Methodology
PowerPoint Presentation, Exercise, Question and Answer session.
Boarding
Course materials and food will be provided by Textile Today.
Certificates will be awarded to participants at the end of workshop.
Course fee
BDT 990/- (Nine Hundred Ninety Taka Only)
** BDT 700/- (Seven Hundred Taka Only) For TTH Alumni
** 2 workshop free per year for Textile Today Subscriber
** 2 or more participants from one organization get special discount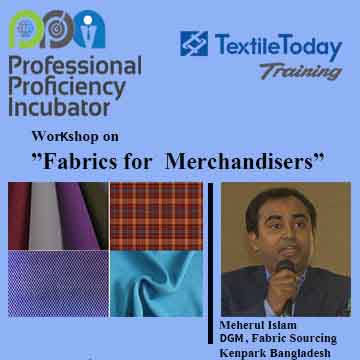 Course Fee :
BDT 990/- (Nine Hundred Ninety Taka Only)
** BDT 700/- (Seven Hundred Taka Only) For TTH Alumni
Mentor's Profile
Sorry no post found.